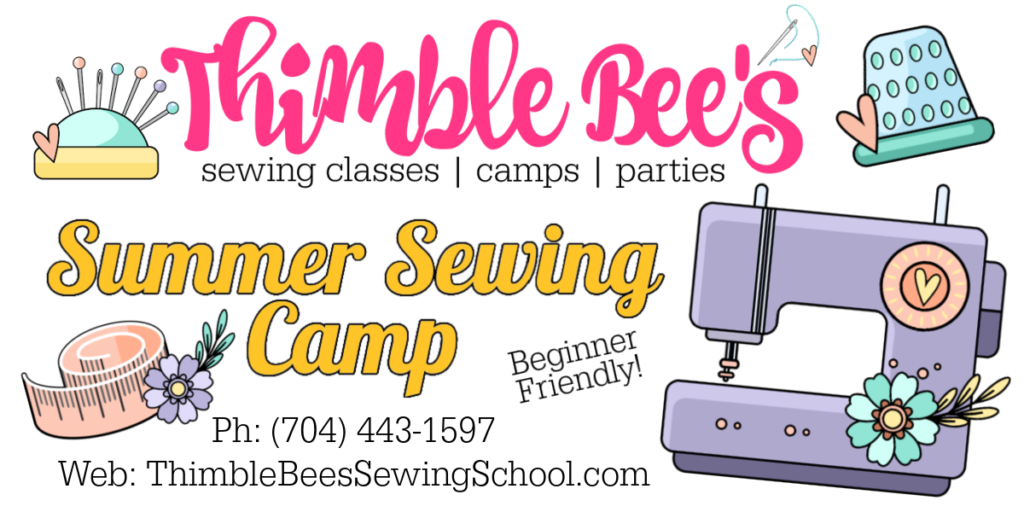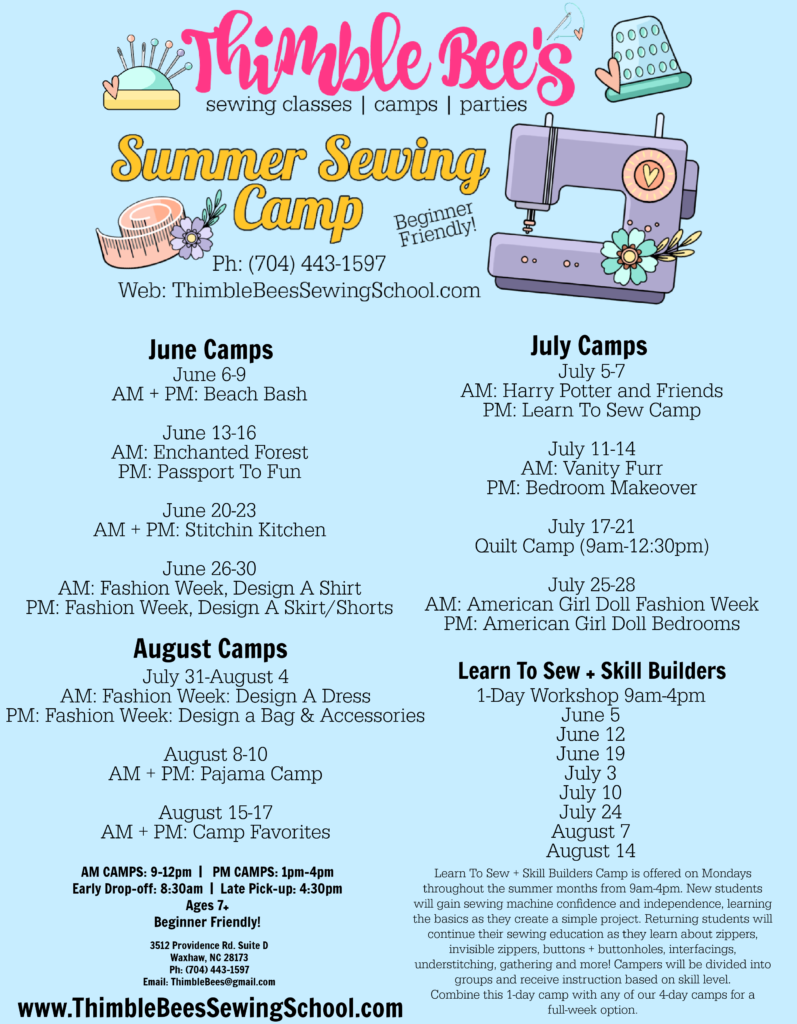 SCROLL DOWN TO VIEW THE FULL SCHEDULE AND REGISTER!
You must register for both the AM + PM camps for a full-day option. Enter code FULLDAY10 to receive a 10% discount.
Age Requirements: 7+ unless otherwise stated in camp description. Students will be divided into groups based on their age and/or their sewing ability and experience. Camps labeled TEENS only are intended for students ages 11+.
NEW CAMPERS: Our camps are beginner friendly. New students are required to attend the 1-Day Learn To Sew Camp. LTS is held on Mondays from 9-4pm throughout the summer months making it an easy add-on to your desired week of camp.
Learn To Sew + Skill Builders is a great add-on for returning campers who are interested in expanding their sewing skills. While our beginners will be focused on sewing basics, "skill-builders" will be learning about interfacings, zippers, buttonholes, experiment with an array of textiles and more.
Sewing Experience: Our camps are structured to inspire the beginner and experienced sewist. We divide each camp into groups based on their age and sewing experience. The number of projects completed is based on their sewing ability and time management (ability to focus).
AM Camps: 9am-12pm
PM Camps: 1pm-4pm
Signup for both for full-day option, 9am-4pm.
Early Drop-off: 8:30am ($10 per day)
Late Pick-up: 4:30pm ($10 per day)
Drop-Off: All camps are a student "drop-off" activity.
Lunch Buddies: Full Day Campers will join us for lunch buddies! Lunch will be held from 12:10-12:50pm. Campers must bring a bag lunch, bottled water, and any snacks they wish to enjoy.
Materials: All materials are included unless otherwise stated in the camp description. Students are provided a sewing machine and sewing tools during camp.
Cost: 1-Day Camps: $150 (9am-4pm), 3-Day Camps (AM OR PM): $225 each, 4-Day Camps (AM OR PM): $300 each, 5-Day – see pricing with camp description.
Full Day Discount: Register for both AM + PM camps of a given week to receive a 10% discount.
Deposit: A non-refundable deposit of $75 is required to reserve a seat in camp. This deposit is applied towards your camp balance. Balances can be paid in full or setup on a payment plan at checkout.
Refund Policy: We are reserving this space and time for your child. Our camps can accommodate a limited number of students; as a result, we often have a waiting list of students that would love the opportunity to participate. Since the majority of our camps include supplies we begin preparing for summer camp months in advance. Purchasing and preparing all materials in advance allows us to maximize camp time and ensure that kids are completing as many projects as possible. Because of this, we have a strict no-refund policy for cancellations or no-shows. We will handle special circumstances (unforeseen illness, family emergency, etc) on a case by case basis. If we are able to fill your child's seat we will issue a credit to be used for an alternate camp.