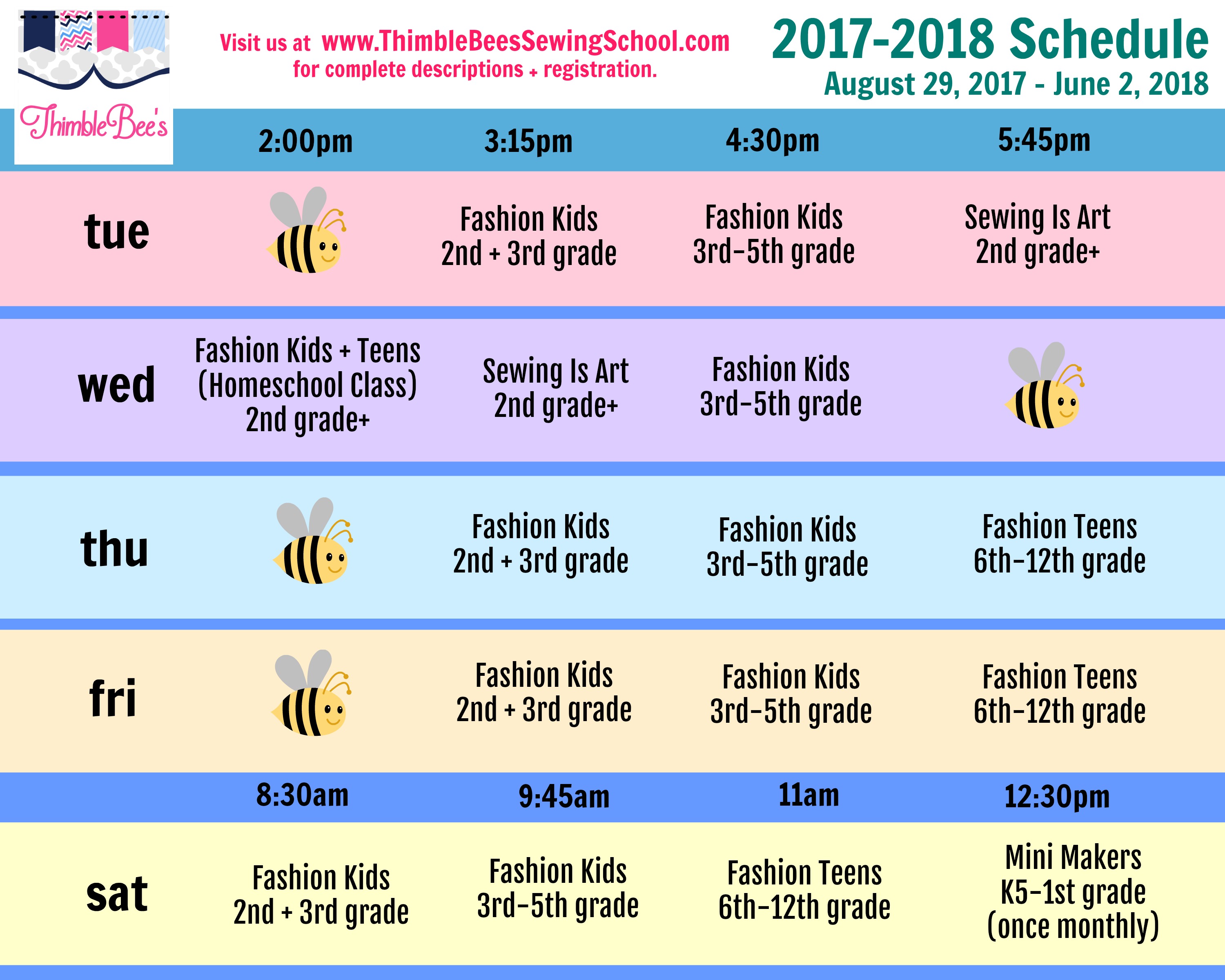 New Students:
Our 2017-2018 Sewing School Year runs Tuesday, August 29, 2017 – Saturday, June 2, 2018.  New students are accepted into our sewing program each month throughout the school year.
Students meet once weekly for one hour sewing sessions.  Classes are based on age, students will be divided into groups based on their sewing experience/workbook.
Tuition is $65 per student per month.  Students are responsible for purchasing their own materials.  We will supply you with a sewing machine and sewing tools for class.
(We accept new students into our program every month, no need to wait until August to sign-up!)
All new students attending Thimble Bee's are required to attend the Learn Your Machine (pre-requisite) class.  This two hour class introduces students to sewing safety and sewing machine basics.  After completion they will be awarded their sewing machine driver's license.  This class is $25 per student and offered on the last Saturday of each month.  Private lessons are also available for Learn Your Machine upon request.
Returning Students:
Returning students who received their Certificate of Completion last May will advance to the next skill level within their grade level.  If your child is working towards completing their workbook, they will advance to the next level once they complete all required projects.
Ready to REGISTER? Great, we are excited to have your child join us at the studio!
Schedule
Mini Makers (K-1 graders meet once monthly on the 3rd Saturday of each month, tuition $35 per child)
Saturdays @ 12:30pm-1:30pm
Sewing Is Art (2nd grade+)
Mondays 5:45pm-6:45pm
Tuesdays 5:45pm-6:45pm
Wednesdays 3:15pm-4:15pm
Fashion Kids (2nd Graders-3rd graders)
Tuesdays @ 3:15pm-4:15pm
Thursdays 3:15pm-4:15pm
Fridays @ 3:15pm-4:15pm
Saturdays 8:30am-9:30am
Fashion Kids (3rd-5th Graders)
Tuesdays 3:15pm-4:15pm
Tuesdays 4:30pm-5:30pm
Wednesdays @ 2pm-3pm
Wednesdays 4:30pm-5:30pm
Thursdays 3:15pm-4:15pm
Thursdays 4:30pm-5:30pm

 

Fridays 3:15pm-4:15pm
Fridays 4:30pm-5:30pm
Saturdays 8:30am-9:30am
Saturdays 9:45am-10:45am
Fashion Teens :: All Levels (Teens Can Sew 6th-12th Graders)
Thursdays 5:45pm-6:45pm
Thursdays 7pm-8pm
Fridays 5:45pm-6:45pm
Saturdays 11am-12pm
Homeschool Classes
 Fashion Kids/Teens (combo) Wednesdays @ 2pm-3pm
10 week short session (March 1-May 10, 2018)
Costume Club (6th-12th graders)
Scheduled to begin January 2018, pre-registration open now!
Questions? Email ThimbleBees@gmail.com or Call 704-443-1597