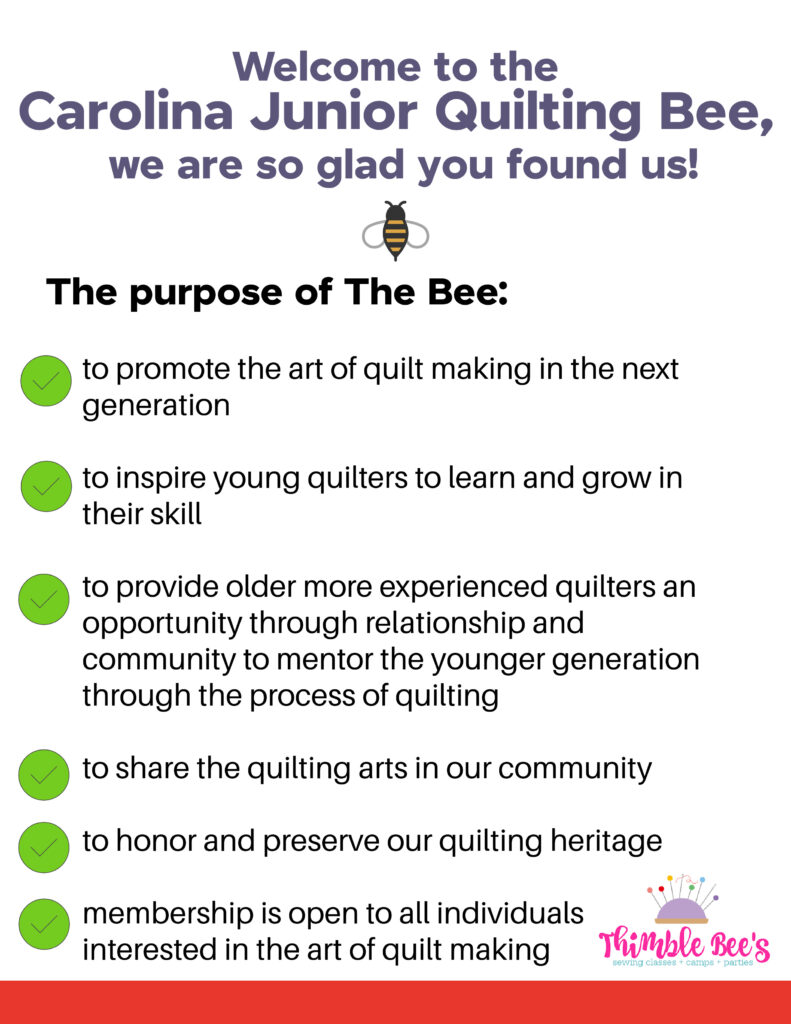 The Carolina Junior Quilting Bee is a space for creative kids + teens (ages 11 and up) to come together to sew and learn modern quilt techniques and applications.
If you have a child interested in becoming a member, you can join the Carolina Junior Quilting Bee to stay connected!
What is a Quilting Bee?
A quilting bee is a group of people who meet together and share the common interest of quilting and pursue ways to use it for good.
How often will we meet?
We will meet once every other month during the school year. Our first meeting will be held on Friday, October 7 from 6-8pm. It's a free event, but you must pre-register so we know to expect you. Click here to register.
Can I invite my friends?
Yes, you may invite friends who share the interest of quilting! All skill levels are welcome. It is helpful to know how to operate a sewing machine independently but not required. We will teach you the ropes!
Quilting Mentors
Attention experienced quilters! For 2022-2023 we are introducing Quilting Mentors/Mentees. We are providing an opportunity for experienced quilters in our community to share their love of quilting with the next generation. As a quilting mentor your responsibility will be to assist your mentee during meetings and help answer any questions they may have. This is a new aspect we are adding for the year and excited to see what comes from these relationships. (You will not be required to teach in a group setting.)
How are our meetings structured?
Learn different quilting techniques

, including different styles of piecing, how to complete a quilt top, how to make a quilt sandwich, binding, and more!
Serving the community. As a group, we will work towards completing at least one quilt per year to give as charity.
Show 'n' Tell.

We will have a share time each month for anyone who wants to show a project they're working on or have completed at home, ask questions about a project they need help or ideas on, etc. Don't be shy, this is a great place to help one another stay excited and committed to trying new things at home and finishing projects!
How-to Workshops

. Some months we will have workshops where we learn basic skills such as using rulers and rotary cutters, how to select the right fabrics and colors, half-square triangle fun, free motion quilting, and more.
Having fun and fellowship together!

We will do fun games and puzzles all centered around quilting. Even fabric swaps and prizes!
Who is in charge of the Carolina Jr Quilting Bee?
Mrs. Jen will facilitate and help organize meetings. As the Guild grows members will have the opportunity to serve in leadership roles such as president and secretary.
Ready to register? Click here.
The annual membership dues are $50. These funds are saved and allocated to grow The Bee and giveback to our community.
Questions? Email us at [email protected] or call/text (704) 443-1597.