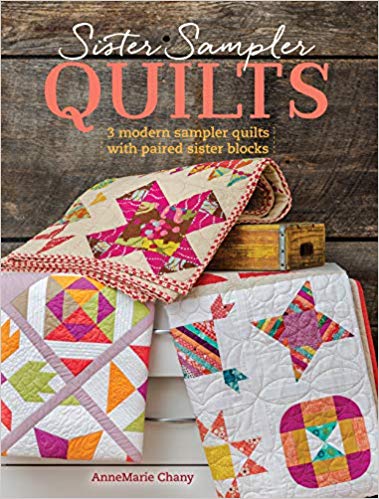 Block of the Month 2020
"Sister Sampler Quilts"
We are excited to announce our 2020 Block of the Month club, Sister Sampler Quilts by AnneMarie Chany
By signing up you will receive a kit including the fabric and instruction for one block per month.  BOTM will meet once a month where you will receive step by step instruction to create your quilt block.  By January 2021, you will have completed 10 sampler blocks.
Our first meeting in April will be held on Saturday, April 18 @ 2pm and Monday, April 21 @ 10:30am.  Our May-January meetings will meet on the second Saturday/Monday of each month.
Two sessions available:
2nd Monday of each month @ 9:30am-11:30am
2nd Saturday of each month @ 2pm-4pm
(You must commit to Mondays OR Saturdays – students are NOT allowed to alternate sessions month to month.)
Registration: $70 is due upon registration.  This includes your first month's membership due and your copy of the Sister Sampler Quilts book.
Monthly Membership Dues: $35 per month.  You are responsible for your monthly membership due regardless of class attendance.
Commitment: Block of the Month is a 10 month commitment (through January 2021). Program and membership fee are non-cancelable.  Monthly membership payment is required regardless of non-attendance. 
What can I expect at each meeting?
Our meetings are fun and low-key! Regardless if you have years of quilting experience or you're just beginning your quilting journey – you will find the monthly meetings to be enjoyable, informative, and a great way to meet quilting friends!
Will I need to bring my own machine?
Sewing machines are provided free of charge.  You're welcome to bring your own machine if you prefer.
Are fabrics included in the monthly membership due?
Yes, we will provide you with a precut block kit each month for a total of 10 unique blocks. 
Are there any quilting tools I should bring to class?
We suggest you bring your favorite rotary cutter (rotary mats will be provided) and a spool of your favorite all purpose thread (in white or natural).
Will I have the opportunity to makeup a class if I'm absent?
As a courtesy, we will offer makeup classes throughout the year.  More details will be provided in class.
Ready to register?
Click here to join the Monday class.
Click here to join the Saturday class.
Call or text Jen with any questions, 704-443-1597.