Do you have a sewing machine gathering dust in a closet? Do you need sewing machine counseling? This class is for you! We'll take you through the basic operation of your very own sewing machine and get you on the road to sewing heaven…instead of what you might be experiencing now!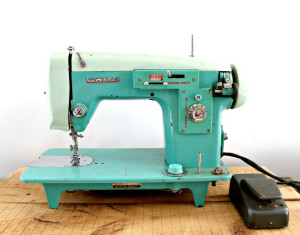 This class is for the beginning stitcher who would like to take our Basic Sewing Classes. We'll teach you how to thread your machine, clean it, and troubleshoot when you're having problems. You'll even walk away with a little project to show the world that you've conquered the basics of your sewing machine!
Don't have a machine of your own? Tell us and we'll set one up for you in class FREE of charge!
See you in class!
Register Below!
Upcoming Classes:
Learn Your Machine is held as a group lesson during week one of our True Beginners Series.  
Cost: $25 per student
Wednesday, January 25 @ 9am-11am
Wednesday, February 22 @ 9am-11am
Wednesday, March 22 @ 9am-11am
Wednesday, April 25 @ 9am-11am
Don't see a time that fits your schedule? We also offer Learn Your Machine as a private lesson.  You can request a morning or evening lesson.  Just complete the form below and we will be in touch via email to confirm your reservation. Private lesson: $35
Register Here: