A little elf told me that quite a few of our students are receiving new sewing machines this Christmas!
I think that's just awesome! It makes my heart happy to know the girls are enjoying sewing so much that a sewing machine made it on their wish list. I can't wait to see pictures of what they've created over the holiday break!
I thought it might be helpful (especially for you non-sewing mommas) to provide you with a few practice sewing sheets. You can print these out ahead of time, maybe even gift wrap them too? Once your little sewist opens her new machine—you will be ready when she asks, "Can I use it right now?!?!?"
Practice Sewing Sheet How-To:
Download and print.
Don't thread your machine (the threads don't cooperate on paper) – the needle will leave a trail of little punched holes for you to see how well you stayed on the line.
Start practice sewing and have fun!
Download here: Christmas Practice Sewing Sheets – Straight Lines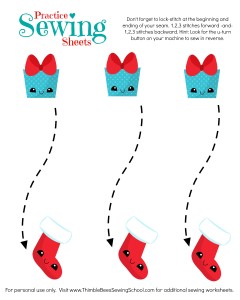 Learn to sew curves…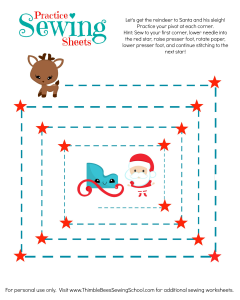 and pivots!
Bonus Sheets: Curves and Pivots :: If you have a student at Thimble Bee's, you will receive the additional bonus sheets free via email! If you're not a student, you can still join in on the fun! Simply join our email list by entering your email address in the subscribe box (near the top of this page–towards the right). We'll make sure to email you the additional pdf's!
I hope you find these practice sheets helpful! Feel free to share this with other non-sewing momma friends! 🙂
All the best,
Jen
P.S. I'm working on a short video showing proper threading, bobbin winding, and basic sewing steps for the Brother CS-6000i. Stay tuned for that soon…